Libertine Absinthe gift set - 55%
A box to provide urgently all original spirits lovers: the sulphurous beverage comes with 2 glasses and spoon dedicated to his service.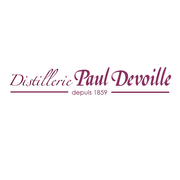 Distillerie Paul Devoille
This spirit made with the absinth plant (the law forbids us to call it just Absinthe !) became infamous and was finally banned in 1915. The green peril, as its critics would have it known, is not actually capable of sending you insane, as was argued in the last century, and has recently undergone rigorous tests to prove that it is, in this sense, inoffensive. The green fairy was therefore able to make her return in 1998, although subject to extremely strict regulation, and it was not until 2002 that the Devoille distillery was able to market its Libertine label.
The Libertine spirit is based on a recipe dated 1894, and is produced in much the same way as the original, using only plants and seeds in its formula. The result is a complex spirit, to be served according to ritual: pour a little sprit into the bottom of a glass, balance a pierced spoon on the glass, then a sugar cube on the spoon. Very slowly, pour some cold water onto the sugar cube, allowing it to gently melt and mix into the alcohol. When the sugar is completely dissolved, the mixture is ready to drink.
Rediscover the pleasure of La Libertine with this special coffret, containing a 70cl bottle of spirit, 2 glasses and 2 spoons.
The abuse of alcohol is dangerous. Please enjoy in moderation.
With this product, we recommend :
Customers who bought this product also bought :