Westmalle Trappist Trippel - Belgian Beer - 9.5%
A real Trappist beer with a characteristic golden colour.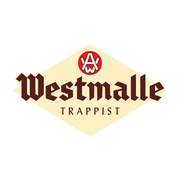 Brasserie Van Westmalle
Westmalle Tripel is a clear, golden yellow Trappist beer that undergoes a secondary fermentation in the bottle (9,5% alcohol). It is a complex beer with a fruity aroma and a nice nuanced hop scent. It is soft and creamy in the mouth, with a bitter touch carried by the fruity aroma. An exceptional beer, with a great deal of finesse and elegance and with a splendid long aftertaste. A connoisseur choice.
Did you know? Trappist beer is only given this name if it satisfies a number of strict criteria:The beer is brewed within the walls of a Trappist abbey, by the monks themselves or under their supervision. The brewery must be controlled by the monastery and have a business culture compatible with the monastic project. The purpose of the brewery is not to make a profit. The income takes care of the livelihood of the monks and the upkeep of the abbey site. What is left over is used for charitable purposes, social work and people in need The monks deliberately keep production small, with special care for man and the environment. Only seven beers in the whole world are nowadays recognized as "authentic trappist".
Water, barley, malt, yeast, hops, sugar. Alcohol: 9.5% vol.
With this product, we recommend :
Customers who bought this product also bought :