Organic Tea Selection by Pagès
Discover 6 very fragrant herbal teas in this pretty box from the Maison Pagès.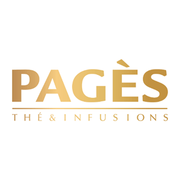 Pagès Thés et infusions
Tips for use
Pagès organic herbal teas can be consumed at any time of the day.
In order not to distort their taste and take full advantage of their virtues, pour a simmering water, preferably not too hard, let infuse for 2 to 3 minutes.
To be consumed plain or sweetened according to your convenience.
This set includes the following selection of organic herbal teas:
Night - a beautiful combination of verbena and lime blossom with tasty pear and blueberry (a consumption of 4 tea bags per day allows you to fully enjoy the effects of verbena).
5 plant special: a great classic for over 40 years, which owes its merit to its perfect balance between linden, mint, verbena, orange tree and camomile.
After meal: ideal at the end of a big meal, to bring a little lightness, with mint, aniseed, verbena and star anise.
Detox: always more delicacy with the sweet scents of ash, rosemary and apricot (a consumption of 3 sachets per day allows you to take full advantage of the effects of ash).
Licorice Mint Fennel: a beautiful union of the frank notes of licorice, the freshness of mint and the sweetness of fennel.
Thyme Lavender Rosemary: take advantage of the Provencal notes to feel like you're on holiday! Thyme makes breathing easier, a consumption of at least one sachet a day allows you to take full advantage of its effects.
Organic night infusion: Verbena* 45%, Cynorrhodon*, natural flavour 12%, Chamomile*, Linden* 10%, Blueberry*, granulated Pear* juice, Orange Blossom* - Special organic infusion of 5 plants: Mint* 24%, Verbena* 24%, Orange Bitter Orange leaves* 17%, Chamomile* 18%, Linden* 10%, natural lemon* flavour - Organic infusion after meals: mint* 50%, anise* 40%, verbena* 8%, star anise* 2% - Organic detox infusion: rosemary* 41%, lemongrass*, spearmint*, ash* 12.5%, natural flavouring 10% - Organic liquorice infusion mint fennel: liquorice* 50%, spearmint* 35%, ash fennel 15%. Contains liquorice: people suffering from high blood pressure should avoid excessive consumption. - Organic infusion thyme lavender rosemary: thyme* 71%, lavender* 14%, rosemary* 12%, natural flavouring 3%. *Ingredients from organic farming
With this product, we recommend :
Customers who bought this product also bought :