100% Arabica Ground Indian Malabar Coffee - Strength 4/5
A rare monsooned coffee blend!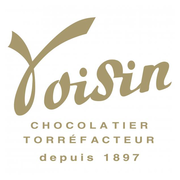 Coffee
Voisin chocolatier torréfacteur
This monsooned coffee gets its name from the way the beans are dried. Once harvested, the beans are stocked where they come into in direct contact with monsoon winds. Once they have turned a beautiful golden-yellow colour, the process is complete.
This is a coffee with real strength of character and highly aromatic notes, which can be enjoyed at any time of the day.
Traditional roasting methods:
The beans are roasted for around 20 minutes at 200°C in order to allow the coffee to develop its full flavour (just one coffee bean has over 2000 aromas!). Voisin wouldn't dream of making it any differently!
With this product, we recommend :
Customers who bought this product also bought :