100% Arabica Ground Italian-style Coffee - Strength 4/5
A full-bodied coffee blend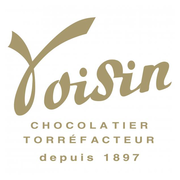 Coffee
Voisin chocolatier torréfacteur
This coffee is made from a blend of Ethiopian and Colombian beans, and has a deliciously rich, full-bodied flavour. It is the ideal blend to have with breakfast, and as a digestif after meals.
With its rich, well-rounded flavour, this blend is sure to delight you.
Traditional roasting methods:
The beans are roasted for around 20 minutes at 200°C in order to allow the coffee to develop its full flavour (just one coffee bean has over 2000 aromas!). Voisin wouldn't dream of making it any differently!
With this product, we recommend :
Customers who bought this product also bought :