Advent Calendar English Tea Shop- Organic Christmas Collection
---
This product is no longer sold
An advent calendar gathering 24 teas to savour everyday before Christmas Day. Perfect to patiently wait the big day, just like children !
It's getting cold outside, you want a tea. But not everyday's tea... Take a look at this Advent Calendar, you won't be disappointed !
In that box, English Tea Shop placed one tea for one day. In total, 12 different flavours for the 24 days ! Which one will be your favourite?
Brewing instructions :
Green Tea : brew for 2-3 min
Black Tea : brew for 4-5 min
This selection contains :
2 "Happy Holiday" pyramid teabags
2 "Spicy Pumpkin" pyramid teabags
2 "Peppermint Melon" pyramid teabags
2 "Spicy Anise" pyramid teabags
2 "Honey Melon" pyramid teabags
2 "Sleigh Ride" pyramid teabags
2 "Silent Night" pyramid teabags
2 "Holiday Blend" pyramid teabags
2 "Gingerbread Man" pyramid teabags
2 "Irish Holiday" pyramid teabags
2 "Candy Cane" pyramid teabags
2 "Breakfast Special" pyramid teabags
Composition :
Happy Holiday : organic green tea, organic cinnamon pieces, organic ginger pieces, organic cardamom pieces, organic cloves, organic nutmeg, organic pepper and organic pomegranate pieces with natural pomegranate and lemon flavours. Spicy Pumpkin : organic green tea, organic cinnamon pieces, organic ginger pieces, organic cardamom pieces, organic cloves, organic nutmeg, organic pepper and organic anise seed with natural cinnamon, melon and orange flavours. Peppermint Melon : organic green tea, organic cinnamon pieces, organic peppermint leaves and organic licorice with natural melon flavour. Spicy Anise : Organic black tea, organic ginger pieces and organic cloves with natural chai, peppermint and anise flavours. Honey Melon : Organic black tea, organic licorice and organic cinnamon pieces with natural honey and melon flavours; Sleigh Ride : Organic green tea, organic cinnamon pieces, organic ginger pieces, organic cardamom pieces, organic cloves, organic nutmeg, organic pepper with natural soursop and orange flavours. Silent Night : Organic green tea, organic cinnamon pieces, organic ginger pieces, organic rose petals and organic peppermint leaves with natural peppermint flavour. Holiday Blend : Organic black tea, organic cinnamon pieces, organic ginger pieces, organic cardamom pieces, organic cloves, organic nutmeg, organic pepper and organic orange peel with natural vanilla and apple flavours. Gingerbread Man : Organic black tea, organic roasted barley, organic cinnamon pieces, organic ginger pieces and organic apple pieces with natural masala chai, cinnamon and lemon flavours. Irish Holiday : organic black tea, organic cinnamon pieces, organic roasted barley and organic ginger pieces with natural vanilla and Irish cream flavours. Candy Cane : Organic peppermint, organic green tea, organic orange peel, organic cinnamon pieces, organic roasted chicory and organic vanilla pods with natural peppermint, vanilla and Irish cream flavours. Breakfast Special : Organic black tea
With this product, we recommend :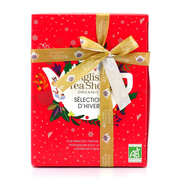 X
By browsing this Website, you accept the use of cookies in order to suggest you services and products tailored to your interests and needs.
Learn more